Roku vs. Amazon
Posted October 30, 2018 at 8:00PM
---
The holiday season is gearing up. And that means retailers will be clawing at consumers' pockets and trying to persuade them to buy their products over a competitor's. This year, there will be two major companies battling it out. Those two companies are Roku and Amazon.
Video streaming continues to grow as most homes cut all ties with their cable providers. These consumers are realizing that video streaming opens them up to a whole new realm of possibilities.
They can pick and choose what platforms to use. And if the price is a concern, they're able to go with the most cost-effective way to stream. If they want to make sure they're able to see sports events, they can choose the platform that allows that...
Video Streaming Grows Bigger
In 2007, Netflix (NASDAQ: NFLX) debuted its streaming service. And that's when everything changed. But it was still a fairly new concept, and it didn't catch on right away. That was mainly because there was one thing missing from this streaming service: a way to stream videos on a TV.
Roku (NASDAQ: ROKU) began to create ways for Netflix subscribers to stream content to their television screens. Afterward, a lot of platforms for streaming began to pop up. Consumers were getting hooked on Netflix. And it became a requirement when buying a TV that it be a "smart TV." This means that the TV has the built-in ability to play Netflix, and other streaming services, on its screen.
As of last year, at least one device capable of streaming video to a TV could be found in 58.7% of U.S. households. And of all the devices currently out there, there are two that most U.S. households use. Those two devices are Roku and Amazon's Fire TV...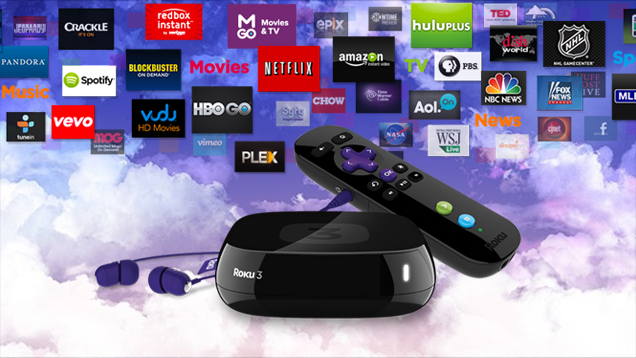 Roku vs. Amazon This Holiday Season
Roku isn't a newbie in the world of video streaming. It debuted its first device back in 2008. But the company only went public last year. Right now, it has 22 million active monthly accounts. That's more than double the amount of accounts it had two years ago. The company estimates that 14.8 billion hours of content have been streamed on its devices.
Roku's devices are easy to use, and it doesn't take much technical knowledge to use them. Not to mention, the company continues to enter into partnerships with television-makers to embed its platform into TVs.
Roku CEO Anthony Wood recently said:
I have no plans on leaving. We have only been public a year and there are still huge opportunities in the streaming area. I have had several companies. I have done well on prior companies. I have no financial need to sell Roku or anything like that. I think that also makes it a little easier to focus on the bigger prize.
Roku is thriving. And right now, its stock continues to soar. This holiday will be another successful year for the company. The company is doing something right.
Then there's Amazon. Amazon is a strong e-commerce retailer that continues to create its own ecosystem of products and services. Amazon debuted its streaming device, Fire TV, in 2014. The company was able to promote its device on its website and incorporate deals. That's the biggest difference between these two companies: Amazon's strong influence over its user base. And that's not to mention all the consumers who go to Amazon to do their holiday shopping.
Amazon isn't taking its competition with Roku lightly. Roku has a huge user base and has been able to grow its market share. This holiday season is bound to be an interesting one!
Until next time,
Jennifer Clark
Pro Trader Today