What's Amazon Working on Now?
Posted January 12, 2022
---
It seems like Amazon (NASDAQ: AMZN) is doing it all.
It has expanded in so many ways since the company was founded back in 1994. Back then, Amazon was focused on being an online bookseller. Now the company dabbles in e-commerce, cloud computing, digital streaming, and artificial intelligence. In 2020, Amazon introduced Amazon One.
This is just another direction that the company is headed in. Amazon One will most likely be integrated with Amazon's other features, platforms, and partnerships to provide its users with convenience. That's the biggest thing that Amazon sells with any of its endeavors — convenience and swiftness.
So, what is Amazon One? Well, it's Amazon's convenient and secure way of allowing somebody to pay or be identified with the palm of their hand. Expanding on Amazon One, this past fall Amazon announced that it would be partnering with AXS to use Amazon One at the Red Rocks Amphitheatre. This partnership gives theatergoers the option to use their palms as their tickets for admission.
No more fumbling around to pull out your ticket or phone to be scanned. Instead, just simply show your palm on a reader and you'll be admitted into the venue. This technology could become useful in various stores, concert venues, sporting events, etc. You'd be able to be a little more carefree by not having to carry your credit cards or admission tickets.
I even see this technology being used at airports. People wouldn't need to print off boarding passes or show their phones to be scanned; they'd just have to show their palms. No internal dread that you left something at home and will have to turn around and go get it. No more standing and waiting in line to go into a concert or board a plane because someone can't find their ticket.
Amazon is giving a new meaning to contactless payments.
--------------------------------------Sponsored Link-------------------------------------
Available for a limited time, our list of 136 dividend stocks you should own today! Download the list right now.
Steal this list now… 136 of the best dividend stocks paying out fat dividends! Use the cash flow to replace your paycheck, pay bills, or just enjoy life. Get the list today — limited time only.
------------------------------------------------------------------------------------------------
Amazon One could also be used for security measures and could even be incorporated into the workplace. The palm scanner could help companies authenticate someone's identity to enable the right people or employees access to certain areas or information. You'd no longer need security passcodes or cards that can be lost or compromised.
Your palm could have so much power and information attached to it.
With Amazon One, your palm would act as the certification of authentication. You could connect a variety of third-party applications or traditional payment methods to your Amazon One account that would make it a lot easier to securely access these other payment methods.
Recently, Amazon expanded its partnership with Affirm as the company's "buy now, pay later" payment option through January 2023, and PayPal mentioned that Amazon will now accept payments from Venmo. Amazon also announced that it would not be accepting Visa credit cards as payments in January 2022 because of increasing network fees. These alternative payment options like Venmo and Affirm have become more widely used and even the preferred payment for some consumers.
Amazon isn't leaving anything out when it comes to Amazon One. It appears the company is highly focused on building up its financial division and giving its customers convenience and even more options. And at the end of the day, that means more business for Amazon.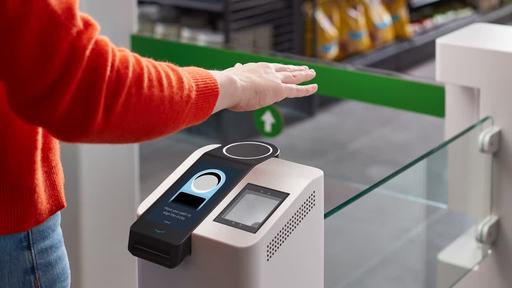 Amazon has been very successful at advertising to customers and I can't help but think that this is another way for the company to get to know its customers better in order to sell more products to them. Amazon has been weaving this web of its platforms and connecting its partnerships to not only make a consumer's experience convenient but also set Amazon up for more business and access to what consumers are looking for.
Amazon One is currently at 91 locations including AXS. Bryan Perez, the CEO of AXS, had this to say:
We are proud to work with Amazon to continue shaping the future of ticketing through cutting-edge innovation… At AXS, we are continually deploying new technologies to develop secure and smarter ticketing offerings that improve the fan experience before, during, and after events.
Amazon One is another step into the future for not only Amazon but also other companies like AXS. These companies see the potential of this technology and how it can benefit their customers and expand their business. But there could be future concerns about a technology that uses someone's palm to access important information.
When Apple introduced Face ID to unlock its phones, there was some controversy around the technology and whether it was ethical. This could be something that Amazon faces, especially if it uses the technology to its advantage. With all technology innovation, there are pros and cons. And sometimes the realization that a technological advancement could be doing more harm than good doesn't come to the surface until it's too late.
As I'm writing this, Amazon shares are at $3,200 per share — a long way from the company's price of $18 per share when it went public in 1997.
Until next time,